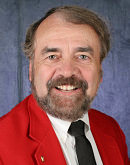 James L. Schneider
For effective and memorable learning sessions, please contact me at:
Blue Chip Training and Marketing
James L. Schneider
33067 Fulton St., Box 148
Gotham, WI 53540
james@bluechiptraining.com
or 1-608-583-4403

WARNING!
If using this for introduction purposes - PLEASE USE SPARINGLY......
...this list contains more details than any self-respecting audience would ever want to know!!
Experienced trainer & speaker noted for his enthusiastic motivational style
....over 1800 presentations since 1982
....after dinner speeches, training seminars, conference keynotes, corporate retreats, etc.
....Certified REAL COLORS Facilitator
....Wisconsin's only U.S. Jaycees Certified Trainer
....Certified Member Trainer, Junior Chamber International
....Member, National Speakers Association - Wisconsin Chapter
20 years as professional in field of economic development
....Executive Director, Grant County Economic Development Corporation, Richland County Economic Development Corporation, Greater Mauston Area Economic Development Corporation
....worked with new & expanding businesses
....'Friend of Community Dev. Award' - UW-Extension Community Development Association
....Past President of Wisconsin Economic Development Association

Co-developer of "First Impressions"
....an innovative community improvement program used by over 500 communities throughout the United States & Canada
....Special Project Award - UW-Extension Community Development Association
Lifelong Wisconsin native
....raised on dairy farm near Rock Springs, WI
....BA-Political Science, University of Wisconsin - Madison
....Economic Development Finance Professional, National Development Council
....Wisconsin Jaycees 1st Individual Development (training) Vice-President
....Recognized for outstanding leadership achievement with JCI Senatorship #34954

Father to the most wonderful daughter in the whole wide world, Julia Lynn
....resides in Gotham, Wisconsin (just two blocks down from Batman's place).