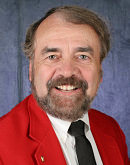 James L. Schneider
For effective and memorable learning sessions, please contact me at:
Blue Chip Training and Marketing
James L. Schneider
33067 Fulton St., Box 148
Gotham, WI 53540
james@bluechiptraining.com
or 1-608-583-4403
BUY THE AUDIO CD
SET A POSITIVE TONE - CREATE A SENSE OF EXCITEMENT
& ENHANCE LEARNING
That's why you should use
"BLUE CHIP ATTITUDES"
as a keynote for your next conference!
"Blue Chip Attitudes" mixes practical common sense ideas with the challenge of personal responsibility. This upbeat, exciting and fun motivational presentation will help create a positive learning attitude. Your participants will be smiling, they'll be thinking and they'll have an 'I can do that' mindset that will carry over for the rest of the day and beyond.
Or use this for the dreaded spot right after lunch. Just make sure the next presenters are ready for a group that is wide-awake, fired-up and ready to learn!
The practical points contained in this program are suitable for audiences of any age or background and work well in business or volunteer settings.
"Blue Chip Attitudes" will give your group a real "kick in the attutudes" that they will remember for years.
Why wait? Buy the audio CD NOW!
Program Details:

Length: 55 minutes as keynote, 30-55 minutes as after dinner
Setting: Works in any room setting, need open area in front for speaker to roam
A/V: Walking (lapel) microphone if more than 50 people.
Additional: Two chairs by speakers area. I provide and pre-set a wallet sized card with main points.
Contact me for more information on Blue Chip Attitudes and other programs that will benefit your business, association or volunteer group.(And ask about stretching your training budget by combining this keynote with my workshops or breakout sessions.........at no additional cost!)
"Great thinking whoever brought in James Schneider. That was a great presentation. He was a good start to get the day rolling (&) that's not an easy thing to do at 7:30 a.m." - Mercury Marine