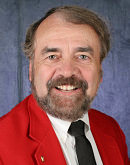 James L. Schneider
For effective and memorable learning sessions, please contact me at:
Blue Chip Training and Marketing
James L. Schneider
33067 Fulton St., Box 148
Gotham, WI 53540
james@bluechiptraining.com
or 1-608-583-4403
"Exceptional Customer Service"
It's NOT a Goofy Idea!
Certain businesses are noted for their exceptional customer service. Names like Disney, Nordstrom's Southwest Airlines and Lands' End quickly come to mind. Their customers are fiercely loyal, their staff members are enthusiastic and the results are shown in their bottom lines. But what are they really doing that sets them apart? More importantly, what lessons can we learn from them that we can apply in our own workplace or day-to-day business operation? Together we're going to explore the world of exceptional customer service.
A closer look at these businesses and others will reveal a number of basic tools that your business and you personally can quickly put to work. We'll explore the benefits of creating a genuine 'customer friendly' experience that can set your business apart from the competition. We'll learn how exceptional businesses 'set the stage' for customer service moments that cement future customer loyalty and even make our day-to-day customer dealings more enjoyable and less stressful.
While the results will be a better bottom line, this is NOT about sales. In fact, agencies or departments within a business that may not regularly come in direct contact with 'outside' customers can benefit as well because one of the secrets of truly customer oriented organizations is their focus on bringing exceptional customer service to 'internal' customers as well. It is no accident that these same companies are seen as exceptional places to work, with high employee morale, low turnover and higher employee satisfaction rates.
Program Details:

Length: 3 - 6 hours as learning session, 55 minute "intro" session available
Setting: Round tables are ideal as participants work in teams
A/V: Flip chart and markers
Additional: I need 30 minutes prior to audience arrival to pre-set the area. Participant involvement and interaction is key to the success of this learning session. Please limit group size to 40.
Contact me to discuss how we can customize this presention for your group's specific needs. The 55 minute version of this program is ideal for 'Lunch & Learn' type situations but this is most effective as a three-hour program. (Ask about stretching your training budget by combining this program with a keynote or other breakout sessions.........at no additional cost!)
"Without a doubt, the musical chairs were not only a 'hit' but they also 'drove a point home'. Very Very Effective!!!" - Town of Brigham