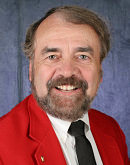 James L. Schneider
For effective and memorable learning sessions, please contact me at:
Blue Chip Training and Marketing
James L. Schneider
33067 Fulton St., Box 148
Gotham, WI 53540
james@bluechiptraining.com
or 1-608-583-4403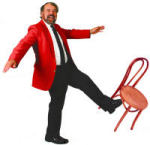 "Blue Chip Attitudes"
Keynote (55 minutes)

This is my most popular program. It's a high energy presentation with a practical motivational message that hits home with any audience. A tremendous way to start an event.
"Exceptional Customer Service: It's NOT a Goofy Idea"
Group Presentation (55 minutes) or Learning Session (3-6 hours)

Say, "exceptional customer service" and names like Disney, Nordstrom's, Southwest Airlines and Lands' End quickly come to mind. What can we learn from them and how do we apply those lessons in our own workplace and day-to-day lives?
Rediscovering Community: Living in a Village of Strangers
Keynote or Group Presentation (30-55 minutes)

Here's a new perspective on what our communities need to do in order to survive in a fast-changing global society . This is a message of hope and positive action.
First Impressions: A Program for Community Improvement©
Keynote or Group Presentation (30-55 minutes)

This easy to use and inexpensive community assessment program has been used successfully by over 500 communities throughout the United States and Canada.
Storyboarding: Brainstorming for Results
Learning Session (3-6 hours)

This Disney developed tool will make your next planning session the most productive ever.
The REAL COLORS® Way to Building 21st Century Teams
Learning Session (3-6 hours)

You'll learn what today's business owner or manager needs to know about building an effective (and profitable) team.
Survival Training for Volunteer Leaders
Learning Session (3-6 hours)

How do you involve and inspire people who feel they don't have the time to say 'yes'?
It's About Time
Learning Session (3-6 hours)or breakout session (45 minutes)

No one has enough of it and they aren't making any more. Learn how to better manage this irreplaceable resource.
Ask me (email) about potential 'break-out' sessions and how I can help you stretch your training budget!