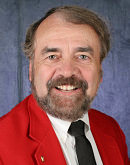 James L. Schneider
For effective and memorable learning sessions, please contact me at:
Blue Chip Training and Marketing
James L. Schneider
33067 Fulton St., Box 148
Gotham, WI 53540
james@bluechiptraining.com
or 1-608-583-4403
"RE-DISCOVERING COMMUNITY"
Living in a Village of Strangers!
Remember when it seemed that everyone knew everyone else in the neighborhood? Whatever happened to that?
Change is everywhere. There's no questioning that. Some communities are struggling while others seem healthy and growing. But growing or not, one theme seems common to all. We've lost something....our sense of community. We've become a village of strangers.
So is that a bad thing?
Ask any local elected official or civic leader and you'll hear about the new challenges they are facing. Volunteers are seemingly becoming more rare. Decisions are harder to make. Our core of business leaders is dwindling. Support for 'local' efforts and businesses is suffering. What can we do?
In "Re-Discovering Community" I look at the challenges that our communities are facing and then offer a new perspective on the directions we must take if we are to grow the future of our communities. This is a message of hope. We CAN...and WILL make a difference.
This program is ideal for chamber, civic and community economic development meetings.
Program Details:

Length: 30 minutes
Setting: Any
Number of Participants: Unlimited
Special: Microphone for larger groups, small open space in front of audience

"..an excellent presentation. You connected very well with the participants."
- Dan Hill, University of Wisconsin Extension