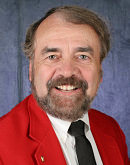 James L. Schneider
For effective and memorable learning sessions, please contact me at:
Blue Chip Training and Marketing
James L. Schneider
33067 Fulton St., Box 148
Gotham, WI 53540
james@bluechiptraining.com
or 1-608-583-4403
"STORYBOARDING"
Brainstorming for Results!
Storyboarding is an exciting planning process that goes well beyond traditional brainstorming. It not only gets people involved but gives them an ownership of the final product and a commitment to its implementation and success.
If your business or group is looking for an effective way to generate creative ideas and then turn them into actions that bring results, then the "Storyboarding" process is right for you.
But what exactly is "Storyboarding".
The term is most often used in the entertainment field to describe a process of visually displaying ideas or concepts in a sequential order. Walt Disney used storyboarding to enhance the process of cartoon development. Since a large number of animators were required to work together to develop the complex drawings that made up the Disney features, the storyboarding process allowed for rapid changes and quick communication.
Mike Vance, who served as Dean of Disney University in the 60's, helped combined the creative flexibility of the Disney animation planning process with the brainstorming techniques championed by Alex Osborn to develop what Vance called "Displayed Thinking".
The result was a flexible planning process that has been used with remarkable success by businesses and organizations as they sought to develop products, plan events or problem solve.
I have successfully used Storyboarding for over 20 years with a variety of clients. Each group was surprised by the number of ideas initially generated and then amazed by the next steps that helped them evaluate and implement those ideas that best fit their objectives.
I am prepared to train your group in the Storyboarding process or lead an actual storyboarding session addressing the problem or project of your choice.
Program Details:

Length: 3 - 6 hours as learning session, 55 minute "intro" session available
Setting: Flexibility is key. Tables must be movable
Number of Participants: Unlimited in intro session, 20-25 maximum for learning session, 6-8 is ideal for actual Storyboarding session
A/V: Traditional overhead projector, markers, removalbe masking tape & lots of blank wall space
Additional: Storyboarding manuals provided
The 55 minute version of this program will provide a good basic introduction to the process. The full six-hour session is 100% hands-on and allows us to go through the complete process with ample time for questions.
"..as usual, a superb job. Your presentation on 'storyboarding was great."
- University of Wisconsin Extension