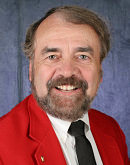 James L. Schneider
For memorable and effective learning sessions, contact me.
Blue Chip Training
James L. Schneider
33067 Fulton St., Box 148
Gotham, WI 53540
james@bluechiptraining.com
or 1-608-583-4403
And here's what people are saying...
"Your presentation was fabulous. It was the fastest 30 minutes I can ever recall and it was jam-packed with good stuff!"
- Forward Wisconsin, Inc.
"People were coming up to me as late as two days later remarking about the outstanding job that you did."
- National Guardian Life
"Wow! You and your Blue Chip Attitude made a difference! A big difference! You held us in the palm of your hand from start to finish."
- Monroe Area Chamber of Commerce
"Without a doubt, the musical chairs were not only a 'hit' but they also 'drove a point home'. Very Very Effective!!!"
- Town of Brigham
"...as usual, a superb job. Your presentation on 'storyboarding' was great."
- UW-Extension
".......it was truly the hit of the weekend."
- National Dinner Theatre Assn.
"The points that you made in regard to motivation, people and management were excellent. Your ability to tailor the presentation by adapting to the audience that was on the edge of burnout was superb."
- Wisconsin Board of V.T.A.E.