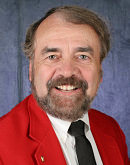 James L. Schneider
For memorable and effective learning sessions, contact me.
Blue Chip Training
James L. Schneider
33067 Fulton St., Box 148
Gotham, WI 53540
james@bluechiptraining.com
or 1-608-583-4403
Blue Chip Attitudes
Audio CD
This audio CD contains the full hour-long version of Blue Chip Attitudes.
$10.00 plus s & h
Use PayPal or credit card options
Enjoy the CD and MAKE IT A GREAT DAY!
- James L. Schneider