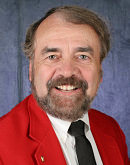 James L. Schneider
For effective and memorable learning sessions, please contact me at:
Blue Chip Training and Marketing
James L. Schneider
33067 Fulton St., Box 148
Gotham, WI 53540
james@bluechiptraining.com
or 1-608-583-4403
---
Welcome to Blue Chip Training. As a motivational speaker and business trainer I am committed to providing keynotes, business training sessions and leadership workshops that are dynamic and entertaining learning experiences. I combine 20 years experience in the field of economic development with a theatre background and a personal passion to ensure that your convention, workshop or business training session will be memorable and enjoyable.
But to be truly effective, a program needs to be more than entertaining. I personally believe that "Excellence is not achieved by doing exceptional things but by doing small things exceptionally well." With that as my guide I strive to fill each session with common-sense ideas that you can put to immediate personal and business use.
Over the past 25 years I have given hundreds of presentations with "Blue Chip Attitudes" as my most requested program. As a conference keynote it sets a positive tone that will carry throughout the rest of your program. Its motivational message is appealing to a wide variety of audiences.
Other programs include:
"First Impressions: A Program for Community Improvement"
"Survival Training for Volunteer Leaders"
I invite you to contact me for more information on these and other programs that will benefit your business, association or volunteer group. Thanks for visiting my website. I look forward to working with you as we develop the exceptional event your participants deserve.
Let's make it a GREAT day.